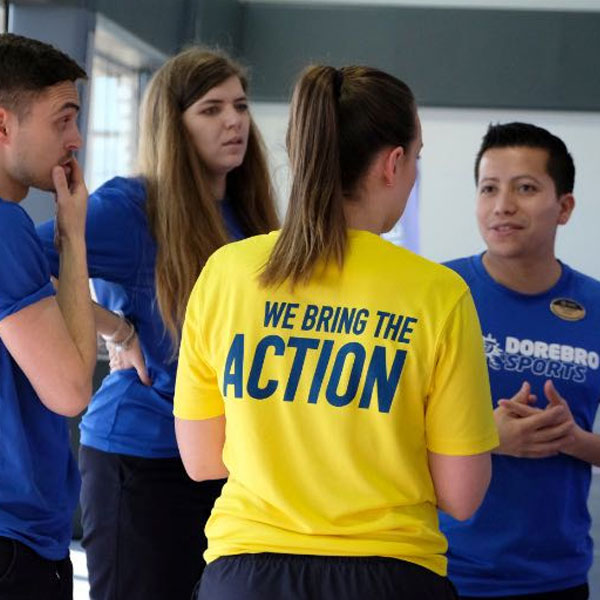 The Kings Family
Izzi began her first steps into employment with Kings Recruit over 10 years ago. She started her journey on camp as a 9-year-old with insuppressible energy and a love of being active, and thankfully she's never outgrown these qualities.
Izzi is a dynamic member of our Operations Team that's based at our UK headquarters. Her role demands passion and enthusiasm, characteristics which she's demonstrated throughout her unique journey. Her current role involves overseeing the smooth execution of camps across the UK and travelling to many international locations to deliver staff training with our cruise and resort partners. With 78 countries (and counting) under her Kings belt, we wanted to know all about her big adventure…
Izzi's journey with Kings
"I was 9-years-old and a kid on the Chester Kings Camp – I was too full of energy to be at home! My older brother was doing his Rookie and I followed in his footsteps. At 17, I became an Assistant Sports Coach, then progressed through to Site Manager by the time I was 21. When I graduated university I then went onto ship with Norwegian Cruise Lines (NCL) through Kings Recruit. It was initially a 6-month contract, but I ended up loving every minute and doing it for 5 years! When I was 26, I then came off ship and became the Regional Manager for Kings Camps South West, and was then subsequently offered a job at Head Office in Sheffield."
What's it like to be part of the Kings family?
"I loved the opportunities for professional development that came with every role I had; there's an abundance of opportunity to grow and develop. It's very hard to stay in the same place within Kings – they're committed to promoting from within which is awesome for students and graduates looking for some solid career experience. Also, I would never have gone onto a cruise ship before I became involved with Kings – I had no knowledge of that world or industry. Yet here I am at 28-years-old, having been to every continent and 78 different countries through my work with them! This was all because of how the effort and dedication I put into my work n camp in the UK – they only choose the best to represent them on board cruise ships and on resorts, so whilst it was an honour for me, I was also full of pride! Sports and active fun is an international language – the line of work we do allows us to engage with any child wherever we go in the world, which is amazing."
What advice can you give to anyone considering a travel job?
"It's a big leap but one you'll not regret or ever forget. You have to just take the plunge – you learn so much about yourself and other people. You become independent and you forge friendships that last forever."
What are your key learnings so far?
"Have a willingness to learn. Put yourself forward for opportunities and say yes. Be consistent and committed and keep showing up. Actively demonstrate that you are a great choice. Effort never goes unnoticed and you'll reap the rewards if you put your all in."