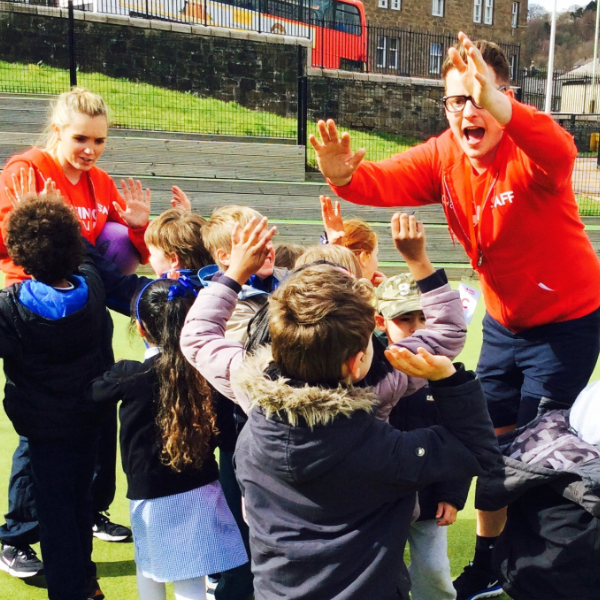 Active Play gets 16,000 primary school children active!
Over five months we visited 53 schools in 18 areas to deliver 450 high-energy, engaging and inclusive Active Play sessions.
Active Play is a unique programme which sees our energetic Red Tops visiting primary schools up and down the UK to get children active, having fun and learning together.
This year we're thrilled to have activated over 16,000 children. Over 5 months we visited 53 schools in 18 areas to deliver 450 high-energy, engaging and inclusive Active Play sessions.
How Active Play Works
The aim of Active Play is to activate ALL children, whether they're the first to take part in PE or shy away to the side-lines. We offer a refreshing alternative to traditional sports and games. Instead of team sports like football and rugby, Active Play focuses on FUN – this means Shark Attack, Chaos Tag and lots more.
Sessions are age-appropriate and tailored to the size of the group and the context of the school. We believe every child should have a positive experience of being active, so the focus is on fun, energy and encouragement. At the end of each session awardstickers and certificates for each child are used to encourage and reward.
How Active Play is Funded
As a not-for-profit that works for children, we're able to fund the programme for schools that share our vision of a world where children love being active.  Currently we're able to provide over 400 free Active Play sessions per year.
Schools love Active Play 
"Kings were full of energy and fun for the children.  The staff were amazed at how much energy they had throughout the day.  The children were really engaged and motivated to be outdoors and active.  I saw children leaving their school day, singing and dancing the fun dance routines they had learned.  I look forward to having Kings back in the school next year".
Deputy Head, Dean Park Primary School
It was a fantastic day – the children thoroughly enjoyed themselves.  The staff were great and really got the children involved and excited about the activities – we honestly could not fault them – their enthusiasm was catching.  A wonderful day which we would happily have again in the school". 
Crieff Primary School
"The activities were well paced and very entertaining for the children, who were fully engaged throughout. The Red Tops were skilled at delivering their activities and worked hard to ensure that all the children were engaged and encouraged. A very positive experience for the children."
Norwich Primary School
Richard Holmes, CEO at Kings Active Foundation says, "Every child deserves to experience the joy of being active and it's been a privilege to visit and make an impact at so many schools. From teachers and support staff, to the children themselves, the commitment to our sessions has been phenomenal. Our team is already looking forward to hitting the road to bringing these sessions to even more schools next year."
If you want to find out more about our Active Play sessions or organise for our team to visits your school, you can contact our Active Playteam at contact@kingsactivefoundation.org.